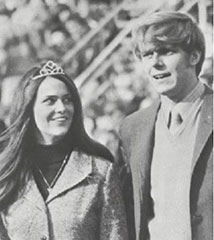 50th Reunion — Classes of 1970 & 1971
We hope you will plan to join us to celebrate the Classes of 1970 and 1971 as they come together for a combined 50th Reunion during Homecoming Weekend:
Friday, October 1- Sunday, October 3, 2021
We plan to have a combination of in-person, streamed, virtual, and hybrid events that will connect you back to campus and your classmates.
Keep up to date with information about Homecoming events at
alumni.valpo.edu
Although a few years have gone by, it's likely you have many vivid thoughts and memories of your time on campus as a student. Whether it was the professor who guided you, the special moment of reflection you captured at the Chapel of the Resurrection, or the friendships that remain today, you have your own Valpo story.
As you gather to celebrate 50 years since graduation, you might be considering what your legacy at Valpo will be. If you have questions or would like to discuss this, we would be delighted to hear from you. There are many ways to support the University, and we can find a way to match your philanthropic interests with the needs of Valpo.
Please contact Christy Graf to find out more by calling 219.464.6152 or emailing her at Christy.Graf@Valpo.edu.
Future gifts also support Forever Valpo: The Campaign for Our Future, an endowment campaign that will secure permanent resources for students as they prepare to lead and serve in church and society.
© Pentera, Inc. Planned giving content. All rights reserved.
Disclaimer