50th Reunion–Pause and Reflect
We hope you will plan to join us as we celebrate the
Class of 1968's 50th Reunion during Homecoming Weekend on:
Friday, September 28 — Sunday, September 30, 2018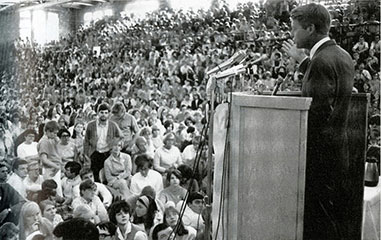 April 29, 1968 — Robert Kennedy, one of the first notable figures to speak publicly at Valparaiso University, speaks to 5,000 discussing hunger, poverty, race relations, and the looming Vietnam War. Kennedy's subsequent assassination on June 6, 1968, added to the many sorrows of the time.
Beloved O.P. Kretzmann, president of Valpo, was introduced to a supportive, roaring student body just before Robert Kennedy was to speak. Kennedy quipped, "I'm glad I don't have to run against you!"
One of the greatest honors is to have lived a life full of memories, faith, and service coupled with the desire and ability to leave that legacy to a future generation.
If you have thought about leaving a legacy at Valpo, we would be delighted to discuss with you thoughts and ideas for consideration. There are many ways to support the University, and addressing your own philanthropic priorities and financial circumstances is an important conversation. Some examples of deferred gifts include:
All future gifts provide meaningful support and will help shape the future of Valpo and the ability to fulfill its mission. If you have already included the University in your future plans, we would be delighted to welcome you in the Kretzmann Society.
Deferred gifts also support Forever Valpo: The Campaign for Our Future, a $250 million endowment campaign that will secure permanent resources for scholarships, faculty development, and programs that prepare students for lives of leadership and service.
Please contact us to find out more by calling 219.464.5147 or by emailing giftplanning@valpo.edu.
© Pentera, Inc. Planned giving content. All rights reserved.
Disclaimer