"Simple" Bequest Gift Fits the Luekens' Plans for Giving Back to Valpo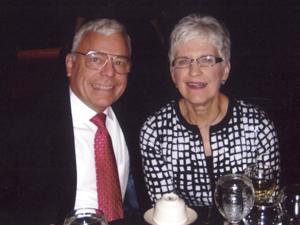 Valparaiso University has been a part of Sylvia (Dukles) and Tom Luekens' lives for more than 50 years. Therefore, it's no surprise that they decided together to include bequests to Valpo in their wills. "Valpo has been part of our lives for so long that I wouldn't think of any other place," Tom said. "This best suits our financial situation and plan," added Sylvia of the bequest, which is a simple way to make a significant gift.
The couple met in a summer college choir. Sylvia graduated in 1962 with a music education degree and taught public school before starting her career at Valpo. She has also served as music director and organist for several churches. Sylvia is well known to donors as a former major gifts officer for the University, where she conceived the idea for Homecoming West, and for her work in the Valpo Guild. Tom earned an electrical engineering degree in 1964 and created state-of-the-art computer systems for industry. They have lived in Valparaiso for the past 13 years.
Both Sylvia and Tom laud their Valpo education. "I was an engineer who could write, which gave me a leg up," Tom said. Tom is proudly chairing his 50th Reunion this year. Sylvia asked other alumni to "truly reflect on how their Valpo experience influenced both their professional and personal lives and how their support can make a similar impact on future students."
Tom and Sylvia remain integrally involved with Valpo. Whether worshipping at the Chapel of the Resurrection or cheering on a Crusader team, Sylvia and Tom continue to express their lifelong love of their Valpo.
© Pentera, Inc. Planned giving content. All rights reserved.
Disclaimer