The Loomans' Gift Annuity: "A Return on Investment"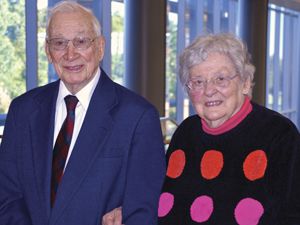 "When I enrolled as a Freshman at Valpo in 1938, the cost of tuition was $350. I would not have been able to attend if I had not received a scholarship. It was the financial support of donors to the University that made it all possible." Thus began a relationship between Valparaiso University and Al Looman spanning over eight decades. Al '42, and Jane '84H, were among the earliest members of Valpo's Kretzmann Society. Al and Jane, 97 and 91, respectively, remain as vibrant as ever.
Al earned his bachelor's degree in 1942 with a major in English and minor in geography and then did graduate work at the University of Chicago. Following graduation, he served in the U.S. Navy during World War II and was recalled in 1950 for the Korean conflict, retiring from the service with the rank of Captain.
At the end of World War II, Al returned to Valpo as a member of its staff. During his professional career at the University, Al served many roles, including: first executive secretary of the Alumni Association; first director of placement; first director of the Valparaiso Union; and first assistant to the president of the University—to name only a few of his numerous positions! While serving Valparaiso, Al and Jane raised four children—three of whom are graduates of Valpo. They still live in Valparaiso and visit campus often.
Today Al and Jane continue to advance Valparaiso University's heritage through significant planned gifts. They have established three charitable gift annuities and made a provision in their estate plan to support the University they love. Of their charitable gift annuities, Al joyfully says, "What a return on investment, for us and for the University."
© Pentera, Inc. Planned giving content. All rights reserved.
Disclaimer