Jim Haase, '74, Makes Gifts with Gift Annuities That Pay Him Income in Return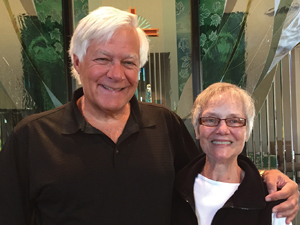 Jim '74 and Helen Haase
"Valpo established the educational basis for my working career," Jim Haase, '74, says. "It also enhanced my appreciation for music and helped put my spiritual life on a strong footing. I believe financial support from alumni is critical to the long-term success of Valpo. I want to ensure that future generations have the opportunity to enjoy the same positive experience that I had."
Jim chose Valparaiso University as a child while visiting two cousins who were students—and it was the only college to which he applied. Now the retired financial analyst is augmenting his income with several Valpo charitable gift annuities and is also giving back through his estate.
"The charitable annuities allow us to begin transferring some assets during our lifetime while realizing an immediate tax benefit and creating an income stream for us," Jim explains. "Our estate plan includes Valpo so a portion of our assets will go to the University at some time in the future."
Jim and Helen, his wife of 30 years, live about 75 miles from campus and visit often. Valpo has long been the favorite of Jim's family; his cousins graduated in '59 and '63 and his older sister entered the University two years before him.
"The size of Valparaiso University appealed to me, and most important, I wanted to attend a faith-based institution," Jim says. "Since Valpo was the only school to which I applied, it's a good thing I was accepted!"
Jim sang in the University choir and earned a degree in business administration. He went to work for the locomotive division of General Motors in the Chicago area, earning an MBA from Loyola University of Chicago in 1984.
© Pentera, Inc. Planned giving content. All rights reserved.
Disclaimer